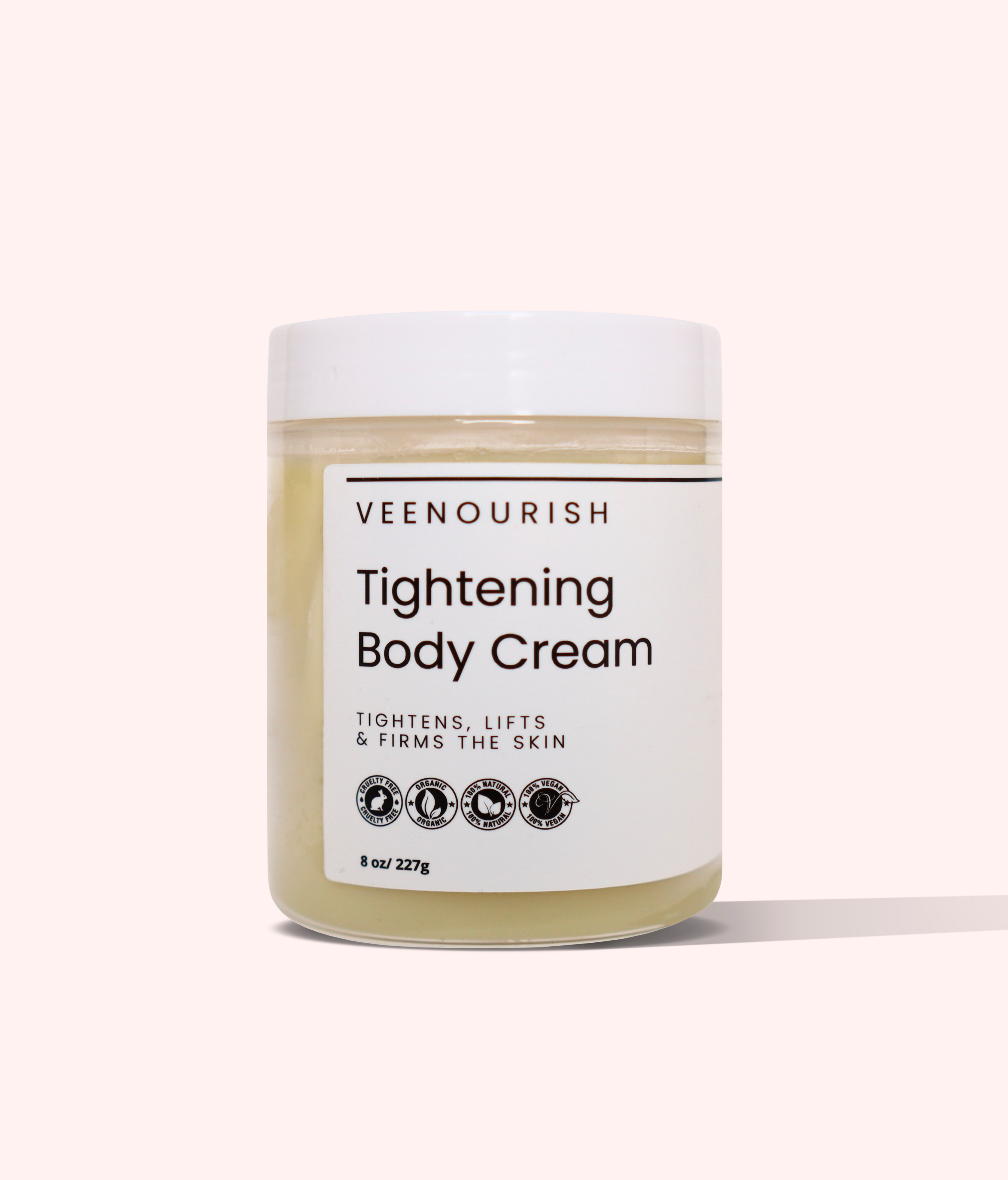 Tightening Cream (Night Treatment)
The Tightening Sculpting Night Cream works similar to our Tightening Sculpting Body Butter. The only differences are it's consistency and that it does not get absorbed onto the skin as fast. This makes it the perfect tightening cream to leave on overnight or to use during your workout because it even helps improve blood circulation and sweating. It can be applied under workout clothes and can be used in the sauna. You can also use this cream as an after care treatment for your clients after a body sculpting appointment. 
Take your desired amount of Skin Tightening Cream and gently massage it on the skin. Leave it on over night or during your workout.
- Tightens, lifts and firms the skin

- Enhances muscle activity

- Promotes blood circulation and sweating

- Moisturizes

- Hydrates

- Softens, conditions, tones and soothes the skin

- Reduces the appearance of fine lines and wrinkles

Butyrospermum Parkii (Shea) Butter, Cocos Nucifera L. (Coconut) Oil, Organic Prunus Dulcis (Sweet Almond) Oil, Organic Simmondsia Chinensis (Jojoba Oil), Organic Rosa Canina (Rosehip Seed) Oil, Tocopherol Acetate (Vitamin E), Mentha Piperita (Peppermint), Boswellia Carterii (Frankincense) Oil
Toxic Ingredients
Parabens
Sulfates
Phthalates SLS, SLES 
As a natural product, it is sensitive to heat and it's consistency will change depending on the temperature it is exposed to. When exposed to higher temperatures the body butter will soften. Although the consistency changes, the product and it's benefits remain the same.

We package our body butters to reduce the risk of melting during travel. Please be aware of package arrival to prevent it from being exposed to the heat for a long period of time. Refunds will not be issued if the product melts. If it melts and it loses it's whipped consistency, it can easily be fixed by placing the product in the fridge until it becomes solid again.

This product contains no preservatives or chemicals of any kind, it's important that you use a scoop or always have clean hands when using it to prevent mold and bacteria from growing.
What Babes Like You Are Saying ↓